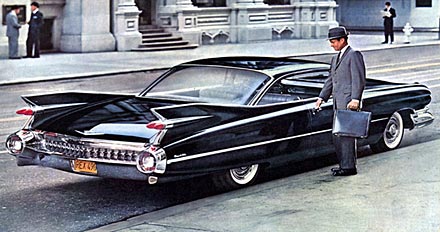 The picture above is obviously not of the new Cadillac CTS Coupe. It is a picture of a 1959 Cadillac Fleetwood. At the time, this man represented someone who had "made it" in the modern world. He comes from a time when the phrase "Someday, I'm going to be able to buy me a Cadillac" was commonplace; from a time when you simply wouldn't shop for a Mercedes or BMW. This man has never heard of brands such as Infiniti or Audi and is the envy of his neighbors as they see those signature tail fins peaking out from the garage and instantly recognize a man with taste. Elvis drove a Cadillac… Sinatra drove a Cadillac…

…now let's move forward to modern times. The Cadillac that exists now has lived through the '80s and '90s. The elderly drive Cadillacs, cocaine dealers drive Cadillacs, Snoop Dogg drives  a Cadillac. A high schooler no longer longs to take dad's Cadillac to prom or to the "lookout point." A modern teenager would rather hide in the back seat, to avoid being seen, than use the back seat for… well,we won't get into it. One of the company's only high points in recent history is a "tarted-up" Suburban known as the Escalade, which was the company's way of swindling money out of people who cared more about status than quality. There is, however, one other modern success story: the Cadillac CTS.
The first Cadillac CTS was seen as a huge breakthrough for the company and launched it into a new area of  design based on "Art and Science." This design was supposed to have crisp-edges and show new advanced technology, but as Jeremy Clarkson famously put it; the CTS looked to be designed by "a man who was given only a ruler." The new model of this CTS coupe, however,  looks fantastic from nearly every angle. It's no Fleetwood, but the CTS coupe prompted many heads to turn and even caused one man to shout out "Nice Car!" as we drove by. While I personally don't prefer the view from behind, I find the side profile of this vehicle to be nearly perfect.

The driving feel of the Cadillac is fantastic around town. The direct injection 3.6L V-6 with 304hp, combined with sport suspension, exhaust, and a shiftable automatic 6 spd transmission make for a surprisingly fun drive through the streets. The buttons on the steering wheel allow for selecting your own gears, which are then displayed in large red numbers on the gauge cluster. The transmission performed wonderfully even in the sportiest of situations where I asked for it to glide into 2nd gear well north of 40mph. The acceleration is adequate for most drivers and will leave few, if any, drivers wanting in most situations. The handling of this behemoth is another story.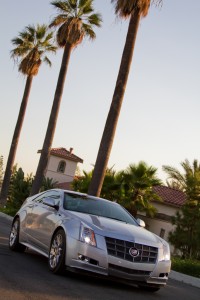 In order to explain the handling of this car, you must first look at the sheer size of the thing. The closest natural competitor to this car, the Infiniti G37 coupe, weighs in at a hefty 3,636 lbs. To match the weight of the CTS coupe you would need your 273lb uncle Larry to sit shotgun in the G37 coupe. Yes, nearly 2 tons of Cadillac is what we have in the CTS coupe, which is 50 lbs shy of a late '80s Lincoln Town Car. What this equates to is a car that will have you sitting with a silly grin as you zip about town, until you hit a twisty mountain road, where you'll want to pull your hair out. In no way does this mean the car is terrible; it's quite the opposite in most driving conditions. It's simply not designed to be a true sporting coupe, which is why the CTS-V Coupe exists. The other downside to the weight is the poor gas mileage I witnessed with the vehicle. Unless you drive like a nun or suffer from Morton's neuroma, plan on seeing close to 17-20mpg in mixed driving.

Overall, the 2011 Cadillac CTS Coupe is one of the better American vehicles I have driven. The interior is fantastic when compared to the bland, boring offerings from BMW and Mercedes. The styling and presence give the driver an air of importance. Driving through downtown Los Angeles with sunroof open, windows down, and music blaring through the Bose sound system, is one of the single best moments in my driving history. Cadillac has survived the wretched '80s and '90s to bring the spirit and pride back into its vehicles. They are once more becoming a part of modern Americana. When it was over and the keys were given up; I watched as the car drove off into the distance and I thought to myself  "Some day you'll be mine, some day I'll buy me a Cadillac."
Check out full gallery of photos and more at our Facebook Fan Page
Photography courtesy of Jim Donnelly