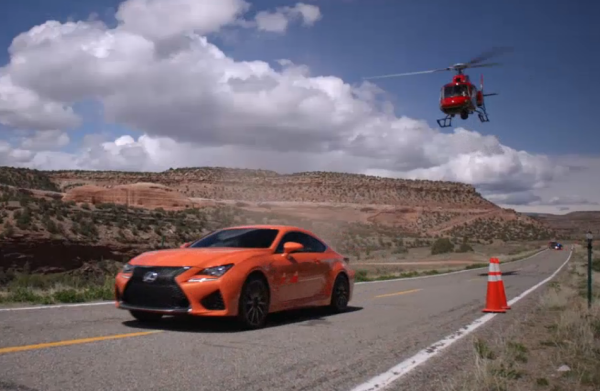 The team of Townsend Bell and Justin Bell from "Shut Up and Drive" have already taken the Lexus RCF through San Francisco up to one of the most beautiful stretches of highway along the California coast. This time performance driving legend Rhys Millen, takes over for Townsend Bell, joining former Le Mans racer Justin Bell as they go head-to-head in the high performance Lexus RC F in the Rocky Mountains of Colorado in season three of Shut Up And Drive.
The two drivers take the RC F to the literal edge as they fly down Highway 141 with a sheer cliff waiting for any mistakes. Fans voted online for Rhys and Justin to test their speed and skills on this remote yet stunning road – living vicariously through these two drivers. Flanked by picturesque canyons for at least 15 miles, Highway 141 hugs the Dolores River and is tantamount to driving at the bottom of the Grand Canyon.
Highway 141 is secluded, save for the Gateway Canyons Resort, which is about a 30 minute drive and edges the Colorado / Utah border. It was founded by Discovery Channel founder John Hendricks and was ranked the #12 Best Resort in the World by Conde Nast Traveler 2014 Reader's Choice Awards. We can see why as the stunning video teaser below shows miles of tarmac that would make any driving enthusiast weep.
Check out the clip below and watch the full episode that premiers on Sunday, May 3rd 3:30pm ET on Fox Sports 1.