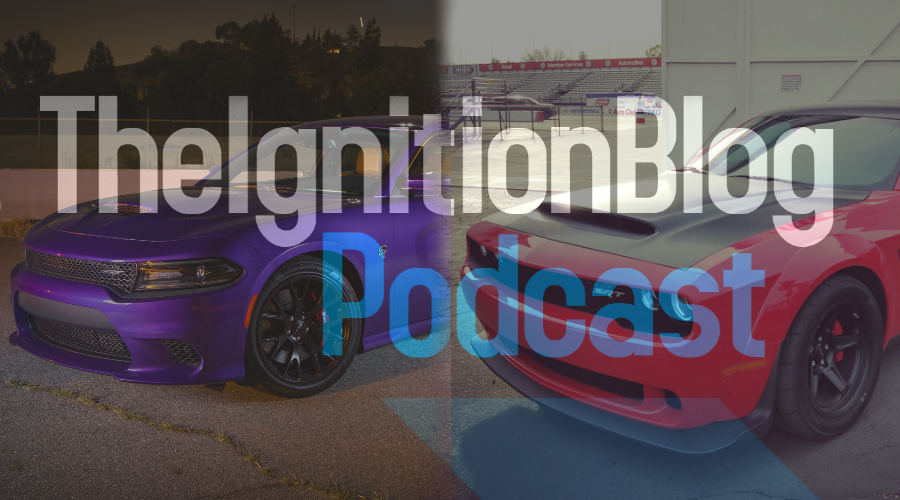 In this Episode:
Matt Dace and Nolan Browning continue the Millennium Muscle car series with the "Return of the HEMI" Part 2 of 2. We discuss the return of two classic American muscle cars, the Dodge Charger and Challenger. Plus, a true Millennium Muscle car to call our own with the Hellcat and Demon.
"Affordable" Muscle: 2017 Dodge Challenger T/A Review
While $43,765 may not seem very affordable to most, this Green Go Challenger T/A packs a ton of muscle car into a stripped-down package. On the outside, the matte black hood, T/A side stripes, and trunk lid signify that this Chally means business. The Mopar-branded hood pins and retro "Challenger" badging also help to kick up the "nostalgia factor." Heading inside, we find houndstooth pattern cloth bucket seats and classic white gauges.
Our model was equipped with the 375hp 5.7L that still has plenty of muscle to have a good time, despite the high-horsepower world that we live in. Stepping into the future, the 2017 Challenger T/A featured Performance Pages on the multimedia display to show things like G-forces, 0-60MPH timing, and crucial engine data. The massive 8.4″ touchscreen also featured the latest Android Auto and Apple CarPlay capability to keep the music cranked up as loud as the HEMI! Be sure and listen to the episode for more thoughts on our time with the Challenger T/A.
Muscle That Corners: 2018 Dodge Challenger SRT Hellcat Widebody
We had a chance to test out the spectacular Dodge Charger Hellcat back in 2016 and found it to be frighteningly beautiful. That car inspired the "Millennium Muscle" car era in our minds and ultimately led to the creation of this series. But if there was one flaw with the Hellcat, it was the struggle to control all of that power. At times it would feel as if you were atop a tomahawk missile, trying to control it by fruitlessly yanking at the reins. But that all changes with the introduction of the SRT Hellcat Widebody.
The lovely folks at FCA invite us out to drive the new Widebody through the Angeles Crest mountains. We did the full loop from La Cañada Flintridge to Wrightwood, CA and would even deal with a bit of ice on the roads. In the past, wet and snowy pavement meant certain death behind the wheel of a Hellcat. Thankfully, the Widebody adds new 305/35R20 Pirelli P Zero performance tires at all four corners and an updated electrically-assisted power steering system. A new "Steering" option is found in the SRT menu and allows you to dial in Street, Sport or Track modes for just the right amount of steering feel to keep you confident behind the wheel. Listen to the episode for more details from the drive and thoughts on the Dodge Demon, also pictured above!
Podcast: Play in new window | Download
Show Notes:
(03:13) Dodge Charger debut at 2005 Chicago Auto Show
(03:40) Mixed reviews on Charger styling, comments from Ralph Gilles
(07:11) 2006 Dodge Charger SRT8 debuts at 2005 NY Auto Show
(07:30) 2006 Dodge Charger SRT8 styling (exterior, interior)
(08:50) Charger Police Pursuit vehicle debuts at 2005 NY Auto Show along with SRT8
(09:00) Dodge Magnum police vehicle
(10:10) Dodge Charger Daytona in Go! ManGo! and Top Banana
(11:30) 2007 Dodge Charger Super Bee in Detonator Yellow
(12:00) Chrysler 300 and Dodge Charger DUB Edition debut at 2008 Atlanta Auto Show
(12:25) Dodge Challenger SRT8 debuts at 2008 Chicago Auto Show
(14:20) Top Gear Series 12 Episode 2, Richard Hammond buys SRT8
(14:34) Nolan grinning like an idiot near Challenger concept at 2006 LA Auto Show
(15:10) 2008 Challenger SRT8s produced in limited numbers, sell out quick
(16:17) 2006 Dodge Challenger Concept grille
(18:50) Ralph Gilles talks about Dodge Challenger SRT8 design
(19:00) Jeff Gale talks about "pudgy" Challenger exterior
(20:35) 2015 Challenger Hellcat debuts with an interview of Chad Seymour at '14 Carlisle All-Chrysler Nationals
(20:50) Ralph Gilles does a massive burnout to debut Challenger Hellcat at '14 Carlisle All-Chrysler Nationals
(24:15) Mark Trostle debuts Charger Hellcat prior to 2014 Woodward Dream Cruise
(24:24) Dodge Rock City at 2014 Woodward Dream Cruise
(25:05) TheIgnitionBlog review of the 2016 Dodge Charger Hellcat
(29:45) 2018 Dodge Challenger SRT Hellcat Widebody
(33:40) 2018 Dodge Demon Debuts at a theatrical live event
(36:30) 2018 Dodge Demon Crate
(38:50) 2017 Dodge Challenger T/A houndstooth seats
(41:40) Dodge Demon TransBrake launch noise
(42:10) The Scariest Thing About The Hellcat Is The Third Owner – by Doug DeMuro