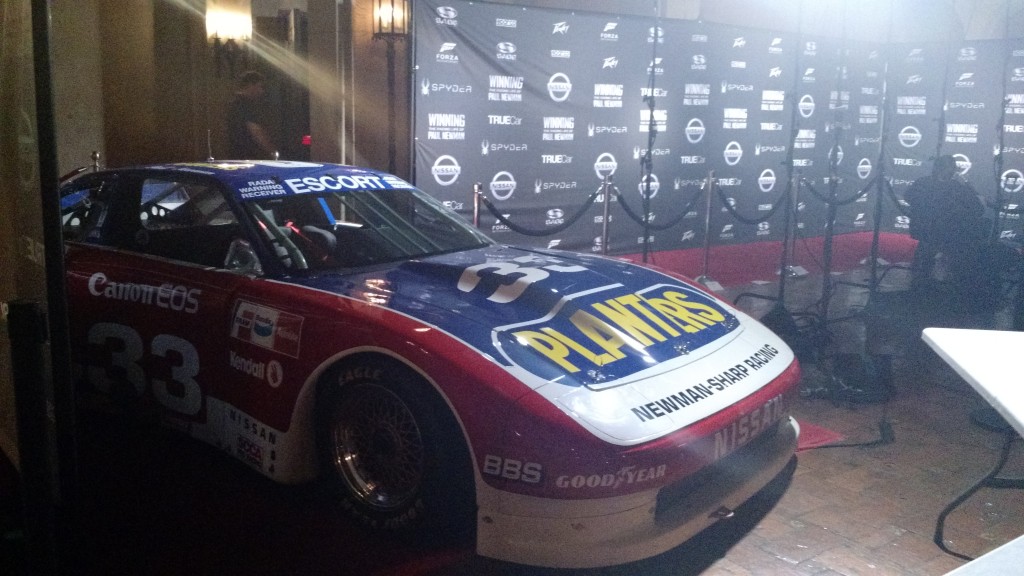 Recently we were honored to be at the premier of Winning : The Racing Life of Paul Newman at the El Capitan theater in Hollywood, CA. The premier was a chance to hear more about the story surrounding the film's creation from creator Adam Carolla and rub elbows with some of the stars interviewed in the movie. The world knows Paul Newman as an Academy Award winning actor with a fifty-plus year career as one of the most prolific and revered actors in American Cinema. Yet few know the gasoline-fueled passion that became so important in this complex, multifaceted man's makeup. Newman's deep-seated passion for racing was so intense it nearly sidelined his acting career.
The story of Paul Newman's racing career has always been important to Carolla as he has collected and worked to restore many of Newman's race cars with the help of Classic Datsun Motorsports in Vista, CA. The film has some amazing footage of Newman's races and the trails and tragedy that came along with the racing lifestyle. The interviews from actors, fellow racers, family, and friends help show the man that Newman was behind the wheel. From the very early moments that Paul experienced a racing car and refused to get off the track to the dark days after the tragic loss of his son and the way he focused the energy into his new passion. Winning does not try and force any conflict, suspense, or over-dramatize the story but rather lets the footage and characters involved give an interesting testimony of a unique aspect of an amazing man. It would have been nice to have some information from Adam Carolla himself on the appreciation he has for Newman in the film and additional narrative behind why he was compelled to make the movie included in the film. But instead Carolla created this project as a "love song" for Newman who was truly a hell of a man and a hell of a racer.
The documentary opens for a limited theatrical release, May 8th – 14th, in the cities below and tickets can be purchased at the NewmanRacingFilm.com site. Adam and the crew will be out at the Indianapolis 500 on May 22nd where there will also be a screening at the local IMAX theater.
May 8th to May 14th, 2015
Atlanta, GA – 1049 Ponce De Leon Ave    Plaza Theatre
May 8th to May 14th, 2015
Philadelphia, PA – 1412 Chestnut Street    The Roxy Theater
May 8th to May 14th, 2015
Greeley, CO – 817 8th Ave    The Kress Cinema
May 8th to May 14th, 2015
Port Orchard, WA – 822 Bay Street    Dragonfly Cinema
May 8th to May 14th, 2015
Detroit, MI – 3420 Cass Avenue    Cinema Detroit
May 8th to May 14th, 2015
Boise, ID – 646 W Fulton S    The Flicks Boise
May 8th to May 14th, 2015
Port Richey, FL – 9510 US Highway 19    Cinema 6
May 8th to May 14th, 2015
Millerton, NY – 48 Main St    The Moviehouse
May 8th to May 14th, 2015
Cleveland, OH – 230 W Huron Rd    Tower City Cinemas
May 8th to May 14th, 2015
Los Angeles, CA – 5240 Lankershim    Laemmle's NoHo 7
Winning: The Racing Life of Paul Newman Indy 500 Premiere
May 22nd, 2015
Indianapolis, IN    IMAX Theater Indiana State Museum