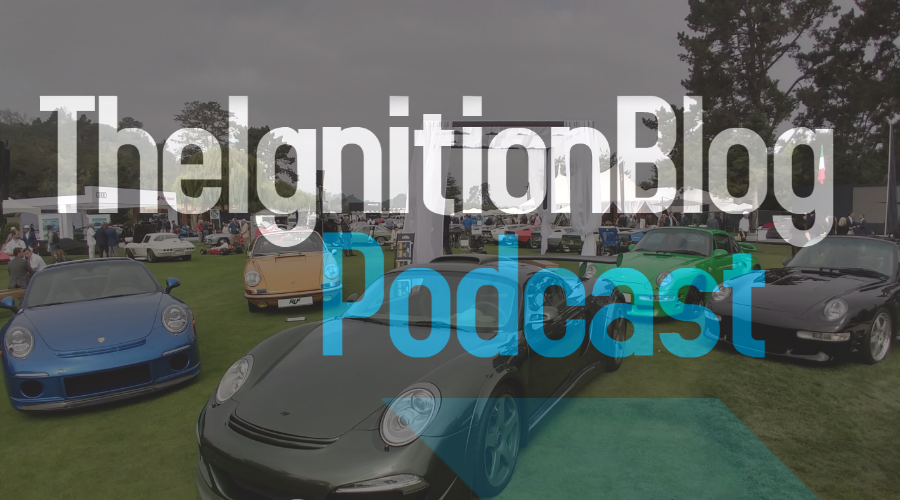 In this Episode:
Matt Dace and Nolan Browning talk about all of the events surrounding this year's Monterey Car Week. Including The Quail, Rolex Monterey Motorsports Reunion, Concours d'Lemons, a review of the Lexus GS 300, and much more!
2018 Lexus GS 300 Review: The Road To Monterey
We recently reviewed the Lexus GS 450h and found it rather expensive and the hybrid system was rather outdated for the price. But this newer, 4-cylinder model offers much of the same benefits for almost $30k less. Over 500 miles on our trip up and back from Monterey, we found that the GS offered decent acceleration in Normal and Sport modes with a comfortable ride. Eco mode at (high) highway speeds helped us average around 29 miles per gallon, but acceleration suffered immensely. The cooled seats and powerful climate control helped keep us cool on the long, hot stretches of central California.
The handling is rather soft, as you would expect, but adds up to a wonderful overall luxury interior experience. This week's podcast episode was recorded inside the GS 300 on our ride home, something that may not have been possible in cars without as much sound isolation. We drove on rutted dirt roads and navigated several rocky back lots during our trip, and the Lexus could have kept a sleeping baby calm and comfortable. In a town full of rare and expensive exotics, the Lexus GS 300 offered subtle luxury. We were in good company at Weathertech Raceway Laguna Seca as the Lexus halo car, the LC 500, greets people at the entrance to the track. The GS even made its appearance on the race track in GS F form as the pace car for the Rolex Reunion festivities. The trio of GS F seemed to perform admirably while keeping the pace, often gapping lead cars like a Porsche 935 during caution laps. Listen to our full review in the episode below, starting at 26:54.
Podcast: Play in new window | Download
Show Notes:
(01:14) Lamborghini SVJ Debut and Party
(02:06) Motor Trend writer/personality Jonny Lieberman
(03:38) Pixar creative director Jay Ward
(04:03) Tim Burton aka "Shmee" of Shmee150 on YouTube
(04:30) Jonny's Ferrari GTC4LussoT 
(06:42) Mclaren Senna GTR at The Quail
(07:08) Michael Fux's Rolls-Royce "Phantom in Fuxia" and McLaren Senna
(08:16) Singer Porsche 911 DLS at The Quail
(08:35) Paganis of The Quail 2018
(08:42) The Alois Ruf Porsche Reunion at The Quail
(09:47) Audi PB18 e-tron concept at The Quail
(11:05) Debut of the 2019 Ford GT Heritage Edition in Gulf Livery
(13:14) Alfa Romeo Disco Volante at The Quail, Top Gear episode
(14:00) Lancia Martini Racing cars at The Quail
(15:07) BMW McLaren F1 GTR at Rolex Reunion
(16:12) Jaguar shows off a Formula-E car and I-Pace eTrophy at Laguna Seca
(19:00) Aston Martin DB11 outside of Monterey Car Week party
(19:45) Alfa Romeo party at Folktale Winery, featuring Arie Luyendyk Jr.
(22:35) Concours d'Lemons 2018 gallery
(26:54) Lexus GS 300 full review
(31:00) Nissan/Datsun featured marque at Rolex Reunion with Nissan R390 GT1 road car and GT-R50 Italdesign. Hosted Adam Carolla and CarCast.
(33:44) Nissan Formula-E car debut with Margot Robbie
(35:34) Adam Carolla and John Morton race group at Rolex Reunion
(37:09) video on the infamous Laguna Seca "Corkscrew" 
(43:00) BMW party featuring the new 2019 BMW 8 Series, BMW Z4, and BMW X7