So after a horrible decade filled with ridiculous engine sizes like 4.6l… Ford has gone back to its 5.0l engine size. This engine size is important for many reasons most importantly having heritage in beautiful Fox Body Mustangs that once caught the eye of a certain white rapper.. as demonstrated below:
…but the engine is also 302 cubic inches, which is very important to Ford enthusiasts who remember the fantastic BOSS 302 Mustang of 1969-1970. The design was a composite engine using the "tunnel port" Windsor block and large Cleveland heads and was sold to the public so that Ford could use it in their Trans Am program to combat the Camaros. The Boss 302 Mustang was designed by Larry Shinoda, a former GM employee. He placed the unique reflective "c-stripe" strips on the car, and eliminated the fake rear fender scoops found on the 1969 Mustang model. The distinctive styling included optional black horizontal rear window shades, blackout hood, and was one of the first production cars with a front spoiler and rear deck wing.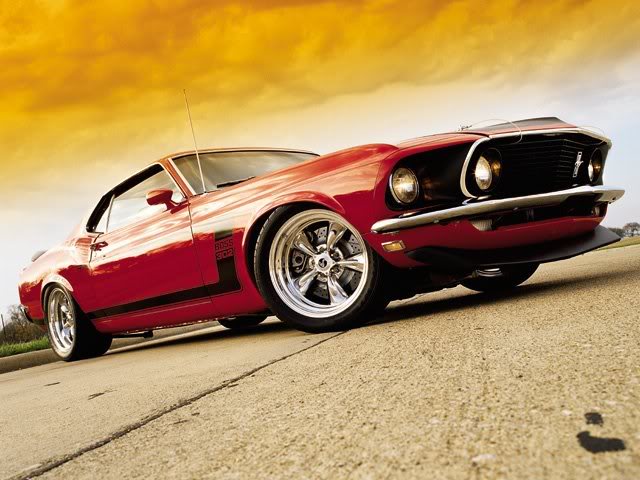 The new 2011 Ford Mustang 5.0l information is as follows:
Employing 32-valves and Twin Independent Variable Camshaft Timing(Ti-VCT), the new 5.0 produces a mighty 412 horsepower and 390 pound-feet of torque (check out our Deep Dive for more details). No word on performance figures, but expect a mid-four second 0-60 sprint and a quarter-mile in the high 12s. At least. Especially as the current Mustang GT (315-hp, 320 lb-ft of torque) hits 60 mph in 4.9 seconds and runs the quarter in 13.5. Oh, according to Ford, the new 5.0 weighs just ten pounds more than the outgoing GT. We like that last bit very much.
Also new for 2011 is a choice of either a new six-speed manual transmission or a six-speed automatic. Normally we have absolutely no reason to ever recommend a slushbox over a proper row-your-own, however, together with that variable cam technology (Ti-VCT) and EPAS (Ford's electronic power steering), an automatic Mustang GT will be able to achieve 25 mpg on the highway. That's up from 23 mpg for the current Mustang GT with an auto 'box. Both the 2010 and 2011 get 17 mpg in the city, while the six-speed manual Mustang gets 24 mpg on the highway and 16 mpg in the big city, same as the current car.
The 5.0 badging get repeated on the engine's cover (thankfully the pretty, composite intake manifold is exposed — sadly the gorgeous exhaust headers are buried) and the speedometer's top end rises to 160 mph. More importantly, the redline climbs from 6,500 to 7,000 rpm. There's no final word on price (we'll definitely keep you updated on that regard), but as Ford's PR folks explained to us at the 5.0 reveal in Detroit, they can't raise the price too much or they'll push the Mustang out of its segment. (via Autoblog)
And to top all this great news off… Ford has unveiled a new BOSS 320R for the low price of $79,000 or $129,000 for the 320R1… pictured below