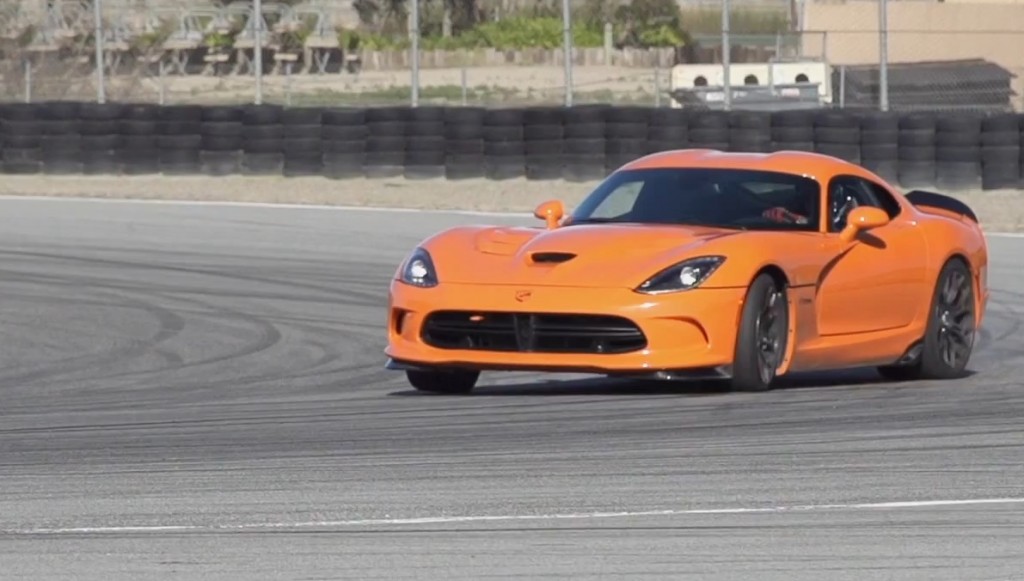 The guys over at MotorTrend posted a fantastic video today to unveil the new production "King of Laguna Seca", the 2014 SRT Viper TA Edition. A limited run of the TA, or Time Attack Edition, will be made beginning with 33 vehicles in the featured Crusher Orange. In the video after the jump the team at Motor Trend feature the car breaking the production car record for Laguna Seca set by the Chevrolet Corvette ZR-1 and the Viper now redeems itself after the loss to the ZR-1 in an earlier comparison by MT with the regular Viper GTS.  This new SRT is a snake specifically made to attack the track and the list of goodies the new Viper includes are as follows from the mouth of Mopar:
> Suspension is uniquely tuned and upgraded specifically for on-track usage and to maximize the performance of the Pirelli P Zero Corsa tires, which are mounted on ultra-lightweight, multi-spoke Sidewinder II wheels.
> A two-mode Bilstein Damptronic suspension system features firmer levels of damping and a smaller spread between modes than what is found on the current Viper GTS models.
> Shock dampers, springs and road racing derived stabilizer bars have been retuned for optimal on-track performance.
> Standard aluminum structural X-brace is replaced with a lighter carbon fiber brace that effectively ties the four corners of the engine compartment together and contributes to the 5% increase in torsional rigidity and stiffness across the Viper lineup.
> Advanced exterior aerodynamics package includes carbon fiber front splitters and rear spoiler, while a carbon fiber rear applique accentuates the rear width proportions and adds another level of detail.
> 2014 SRT Viper TA's handcrafted, all-aluminum 8.4-liter, mid-front V-10 overhead-valve engine offers 640 horsepower and 600 lb.-ft. of torque, giving it the most torque of any naturally aspirated sports-car engine in the world.