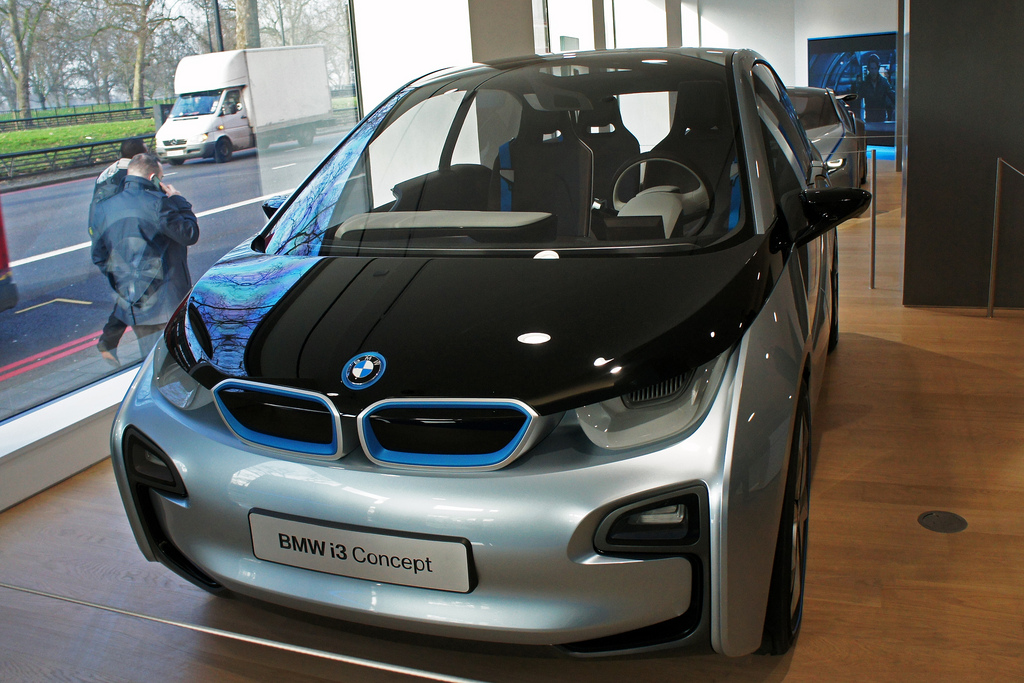 The new electronic BMW i3 heralds a new era of technological vehicles in 2014. It is powered by a 170bhp rear-mounted electric motor and can achieve 0-62 mph in a respectable 7.2 seconds. What's more, the i3 can be fully charged in eight hours on a regular domestic plug. If you can't wait that long, BMW also offer an SAE DC Combo Fast Charger which delivers up to 80 % of a full charge in merely 20 minutes, and a full charge in just 30 minutes. However, the true strength of the BMW i3 lies in its wealth of new technological innovations. Move over Knight Rider, the i3 is the perfect showcase for illustrating how both BMW and electric cars have revolutionized in recent years.
Step inside the i3 and you are immersed in its futuristic design, all of which culminates in its stylishly hi-tech cabin front panel. This panel has been produced using natural materials such as eucalyptus and exposed carbon fibre strips, which highlight the vehicle's harmonization of ecological benefits and technological innovations. The interior encompasses a fresh and luxuriously spacious design, thanks to its open-plan layout. For example, if you open all the doors you can look right through the whole vehicle. Moreover, the lack of a transmission tunnel has enabled BMW to lower the floor and offer slide-through seating. This grants drivers the liberty to exit the car from the passenger side in the event of city parking, or simply if you feel like making a unique getaway.
The main instrument panel is reminiscent of a gadget from a Bond film; a single LCD display which is visible through the blue-rimmed steering wheel. From this point onward you can customize all aspects of your i3 to best suit your driving, technological or secret agent needs. A choice of sizes for its centre console screen provide varying levels of satellite navigation, vehicular information and entertainment. The standard 'Business' unit is fitted with a 6.5 inch display but of course, this being BMW, you can scale up to a maximum 10.25 inch widescreen version in the 'Professional' unit. The cabin includes reliably familiar BMW indicator switches and a BMW iDrive controller between the front seats. What is new though, is the gear selector. You switch the car on and off, as well as alternating between Drive, Park and Reverse, using an aptly placed unit that is mounted on the right hand side of the steering column.
Every single technological aspect of the i3 has been refined to offer drivers the pinnacle of efficiency and luxury. For example, long gone are the days of following your sat-nav directions into the middle of nowhere, or running out of gas; the i3's sat-nav possesses the ability to remember your driving style and inform you if your chosen route is too long for the amount of charge you have left, as well as notifying you whether you have enough charge for a return trip.
Jardine Motors define the i3 as the "electric evolution of BMW's design philosophy." Subsequently, the i3 demonstrates that, for BMW, there is no such thing as half-measures. The standard model is aptly named "Mega"."Mega" includes 19-inch forged wheels with unique aspect-ratio 155/70 tyres for low rolling resistance, BMW Navigation, iRemote and ConnectedDrive with eCall, alarm system, 7.4-kW on-board charger, LED headlights, daytime running lights and tail lights, Sensatec upholstery and a leather trimmed steering wheel. However, if you felt that something is still missing, you can progress up to the "Giga" model, wherein the leather trim is stretched to decorate the interior more extensively, with some wool cloth upholstery added for comfort. Moreover, 19 inch wheels, a sunroof, satellite radio and contrast stitching area are also added, in case you were feeling in any way deprived.
If those options still weren't ticking all of your boxes, you can opt for the "Tera" model. It contains all of the features from the "Mega" and "Giga" models, but with a few more interior touches. For example, if you were thinking, "I like the leather interior, but I wish the leather had been tanned with olive leaves", then the Tera will grant your wish! They also throw in anthracite floor mats and remodelled 19-inch wheels to sumptuously gild your i3 in the height of luxurious refinement. Ultimately, this plethora of technological additions epitomises the BMW i3 as the must-have electric car for the technological modern driver. From its eminently futuristic design to its innovative capabilities, the i3 is the Swiss army knife of electric cars. Any issue which a driver could possibly have- be it comfort, accessibility, navigation or simply not having enough cool gadgets- and the i3 is poised and ready to provide quick, efficient and shiny solutions. Subsequently, the BMW i3 puts all other modern electric cars to shame; seamlessly demonstrating that not only can you save the environment, but you can do it stylishly and luxuriously.