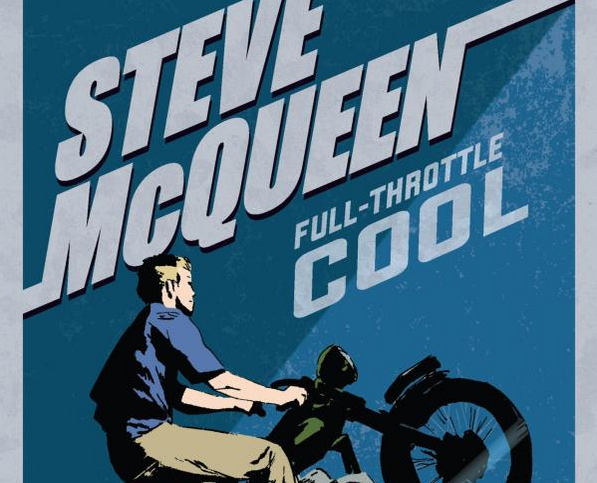 "I'm not sure whether I'm an actor who races or a racer who acts."
-Steve McQueen
Dwight Zimmerman has released a new graphic novel covering the lows and highs of one of Hollywood's all time greats – Steve McQueen. Zimmerman has already released several graphic novel historical books covering subject matter like Area 51 and The Vietnam War. In Steve McQueen Full-Throttle Cool, Dwight has partnered with artist Greg Scott to help bring McQueen to life in page after page of beautiful and detailed illustrations. The book covers his entire life, from his earliest years growing up in a suburb of Indianapolis to his death from mesothelioma. It is easy to read and helped give me a more intimate view into the life of an automotive legend. Stunning scenes from movies like Bullitt and LeMans show the different struggles McQueen had with balancing his racing life with his acting career. Steve had gasoline running through his veins and raced everything from dirt bikes, to dune buggies, to priceless Porsche race cars.
I have seen nearly all of McQueen's famous films and know much about his life but Full-Throttle Cool gives a great mix of general knowledge and personal details that I had never read about. Things like the struggles in his marriage to Neile Adams, driving in LeMans with a broken foot,  and wrecking a car to get out of his contract are just a few of the more interesting details. The text and images help bring the stories to life and the format makes for a very engaging and enjoyable read. At under 100 pages the book makes for an easy way for early teens to learn about an iconic man. As we approach the 35th anniversary of McQueen's death this November, Full Throttle Cool is a great memento that I plan on looking through for years to come.
Steve McQueen Full-Throttle Cool is available on Amazon.
Be sure to check out the full collection of books by Dwight Zimmerman.